Great food & drink at your fingertips. &Munch makes it easy to find exceptional event catering.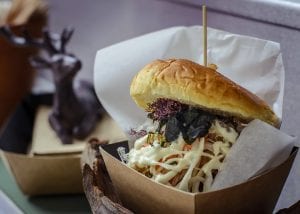 Who we are?
&Munch is a one-stop-shop for finding and booking unique street food & independent caterers in Scotland. We have simplified the process of booking catering with our online platform for our hand-picked catering businesses. Making it easy for you to discover great event catering.
So if you need a gourmet burger truck at your wedding or pop up coffee bar at your office. We can cater for events of all sizes creating memorable food experiences.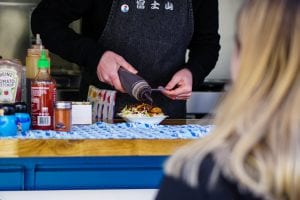 &Munch gathers Scotland's top catering & bar suppliers to create a one-stop hub of culinary delight. From Mexican to Italian, Scottish to Japanese our platform features an array of caterers who specialise in all types of cuisine. Offering you endless catering choices for your next event.
The culinary scene in Scotland has grown in the last few years, with small independent businesses playing a major part in that. &Munch puts a spotlight on this vibrant sector and makes it easier for you to find and book great event catering.
'There are so many amazing small businesses out there. We do the hard work in finding top-quality suppliers and provide a space for them to be found & booked. It's a fantastic industry filled with passionate people who love what they do. Our job is to provide excellent service and increase the visibility of this sector across Scotland' Vanessa Gilpin- Director
How does it work?
Using our platform, you can easily browse, filter, and search for your favourite local caterers and book them for your event. Our platform gives suppliers their own profiles. Here you can see sample menus, photos and all the information you need, allowing you to make the right decision.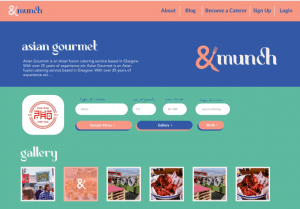 Submit an enquiry to your chosen suppliers & use our chat feature to discuss the details of your catering needs. Our catering managers are on hand to make sure ensure everything is in place. You can relax on the event day & just enjoy the experience.
We believe our platform will bring ease and enjoyment to finding your perfect event caterer. No matter the event we can find the RIGHT food & drink options for you.
Browse our platform today and get in touch with any comments or feedback. We look forward to catering for you soon!