We often go down the digital rabbit-hole and find ourselves confronted with some of the tastiest finds.
Here is what we are loving this week! 
Click the links for more info.
*Updated every week
12/03
#EmpowerIndependents Campaign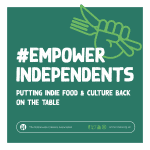 The past year has been tough for us all but independent food & drink companies have had it particularly hard. With the industry brought to a standstill and many falling through the cracks for government support, we need to continue shouting about the importance of these businesses.
NCASS recently launched the #empoweringindependents campaign to give voice to this. Whether you're in the industry or simply benefit from the fruits of the industry here are some ways you can support today
Get Behind the Pakora Adventure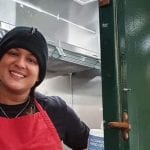 Pakora Explorer are one of our much-loved suppliers. They are whole-heartedly on a mission to see their authentic pakora eaten all across Scotland. This year saw them make a pivot into the retail market and it's brought them much success. With new opportunities on the horizon, they have launched this crowdfunder to raise fund so you can support their exciting journey.
Guardswell Sister's in the News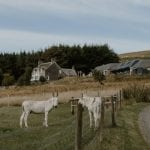 One of our favourite venues for some R&R and even more loved as its run by two amazing sisters. Guardswell Farm (rural farm-stay & venue) & Guardwells Grows (Micro Market Garden) are an absolute find. With a holistic ethos & considered approach they have created a thriving business that is true to their values & loved by many. Stay, Play & Eat!
05/03
MAD Mondays at Home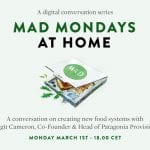 Always putting out great content that is thought-provoking and inspirations we love MAD & we love MAD Monday's at home.
Check out their next talk & book your virtual spot 
Mezzaluna's Epic Cannoli's
Fried pastry with a sweet creamy filling. Mezzaluna have brought their unique spin to these classic Italian treats with flavours like Kinder Bueno, Ferrero Rocher & even a limited addition Eton Mess!
These sell out like hotcakes so if you're lucky enough to live in the Dundee area get your orders in here
Yes…Carrot Cake Cookies!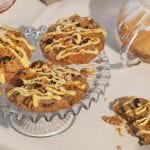 These didn't last long at all once we baked them. A few dished out to the neighbours and the rest scoffed down with a nice cup of coffee! If you love carrot cake or cookies or both you will love these. Soft, chewy, carrotty goodness.
Get the recipe here
–
27/2
Free the Chilli does Delivery
Now bringing their delicious menu to your door. Expect Jackfruit Wings, Spicy Mac & Cheese & Chimichurri Beef Wraps
Available for delivery across Edinburgh from 25th Feb on Deliveroo & Just Eat
Sugarsnap's Chocolate Egg Masterpiece
Pretty much works of art. We love the vibrant colours, geometric designs & glossy finish. For the chocolate lover- you can also get them filled with extra treats.
Available to pre-order for Easter (collection in only, Glasgow)

This Week We're Baking
Butternut, Feta & Chilli Roll's…and absolute winner of a recipe from Sabrina Ghayour. So simple to make & SO tasty our WFH mid-morning/ afternoon snack
Recipe available here.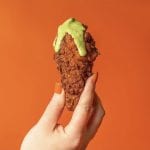 Bonus- New Chicken Place in Town!
We were raving when Ox & Finch landed & we were raving when Ka-Pow landed. So when we caught wind they were launching a new Fried Chicken Pop-up 'Koxedo' we had to shout about it. We are buzzing & will certainly be in line next week.
Launch 5th March – Pre-Order here.