One of the first questions we get asked by couples is how much will it cost to feed my guests? We have put together this handy guide to help you make sense of it all!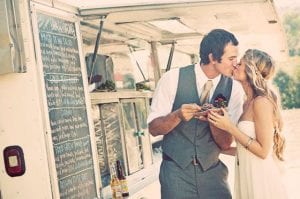 How much does the average wedding cost to cater?
Last year, it was estimated that couples spent an average of £5,000 on food & drink for their wedding. Street food offers a creative & cost-effective way to deliver this all-important part of your big day. With independence comes flexibility and with our range of food trucks at your disposal we are sure to find you the best quality caterers that meet your budget.
Whether it's a festival themed wedding with a selection of gourmet food trucks or made-to-order tacos, street food catering provides a unique experience to wow you and your guests.
We cover 5 key aspects of your wedding or event to ensure the best possible catering experience for you.
Service styles: How your food is served- From sit-down meals, buffet-style or served up directly from the food truck.
Your Budget:

 

Street food typically can be flexible to suit your budget, dependent on your service style and menu choices.
Theme: Tailor catering to your preferences by coordinating colour schemes, décor and aesthetics. From rustic to modern styles, our food trucks will make the ideal complement to your wedding setting.
Customisable options: The beauty of independent catering is flexibility. We can tailor your menu to suit you, just the way you like it
Logistics: Space, power and accessibility are all things to consider at your wedding venue. We take care of all these aspects so you can enjoy the day care-free.
In addition to food suppliers, we also offer a range of fantastic mobile & pop-up bars. So, if you're in need of bespoke drinks, pop-up bars or interactive experiences we have got you covered!
What is the overall cost when booking with us?
Well, that depends on you!  We would estimate that Day Guest's average at £25-40 per head (2-3 dishes p.p) & Evening Guests at £12-20 per head (1-2 dishes p.p). Our minimum spend for catering during peak season (May- September) is £750 per caterer (dependent on numbers).
Additional costs may include cutlery and crockery hire, staffing and travel expenses.
With a wide range of food trucks available from Mexican to Japanese, Gin Bars to Crème Brûlée Trucks and everything in between we can create the perfect menu for your day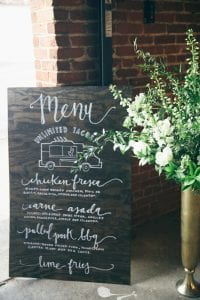 Here are a few sample menus to illustrate what our suppliers can do!
Taco Truck
Chicken Fresco
Citrus marinated Grilled Chicken Fresco Tacos with Pico de Gallo
Carne Asada
Chipotle Marinated Steak topped with onion, coriander & fresh lime juice
Pulled Pork BBQ
Sweet Pulled Pork, spicy chipotle coleslaw & tangy barbecue sauce
Canapés by The Pantry
Pumpkin and Saffron Arancini
Pumpkin and Saffron Arancini, Pumpkin Pesto & Pecorino
Jam and Cheese Muffin
Corn Muffin, Tomato Jam, Ricotta
Cheese Toasties
Truffle, Cheddar & Grilled Cheese sandwich, Apple & Kohlrabi Slaw
Fish & Chips
Lemon Sole, Tartare Sauce, Potato Farl
Crème Brûlées by Creme Caravan
Original Vanilla
Salted Caramel Brownie
Hazelnut & White Chocolate
Apple Crumble
Vanilla Creme Topped with Apple Compote & Shortbread Crumble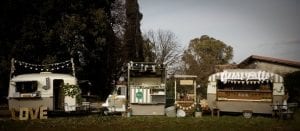 Food trucks are a great way to bring a unique and interactive food experience to your special day whilst staying flexible with your budget.
Our catering team can help you find the perfect food trucks & plan your feasting experience. Browse our suppliers & reach out to your favourites today!