Fifteen of Scotland's finest independent street food caterers headed down to The Pitt Market to battle it out for the number one spot at The Scottish Street Food Awards 2021. Our marketing assistant, Sophie, went over to Edinburgh to check out the festival's final day and munched some insanely good food.
The Scottish Street Food Awards 
Last weekend saw the Scottish leg of the British Street Food Awards take place at The Pitt Market. But before we tell you who won, here's a quick rundown of our time at the awards and what we ate!
The setting was first-class; a hot Scottish summer day, sat in the open courtyard, sipping on a cold pint of Campervan Leith Juice. The perfect environment for the feast we were about to have.
The organisation of the event was top-notch. We were shown to a table, given a wee ticket (to cast our People's Choice vote) and were instantly instilled with enthusiasm as our host spoke passionately about the caterers present.
We ordered by scanning a QR code on our table and food was brought over. The online ordering system was incredibly intuitive, worked well (nothing was missed) and there were no complications with processing the order. Additionally, it was great getting to scroll through all of the vendors' menus and see the total offerings at the event before deciding on what we were to order.
A very thoughtful 'Taster' option was offered by some caterers, which saw vendors offer mini versions of full-size dishes. We loved this little menu quirk. Such a great idea to be able to try a little of this and a little of that because no one wants FOMO.
The Food
So, onto the food, the all-important food. We ordered from four suppliers in total – Pizza & Dreams, Stag Bites the Hog, Pakora Explore and Free the Chilli. All delicious!
This all-vegan pizza caterer is a spin-off from an all-time AndMunch favourite, Caravan Of Courage. Having only recently launched it's an incredible feat that this team managed to get themselves to the awards.
We munched down on two of their 'taster' pizzas. These mini versions of their full-size pizza were honestly more than enough when considering all of the other food we were sampling.
We had the 'Threat Level Midnight' and the 'Three Pence Piece' pizzas. Both of these vegan delights were adorned with coconut mozzarella. I must admit as a non-vegan (and a huge cheese lover) I was a little unsure how convinced I'd be by the cheese substitute. But I had nothing to fear. This totally surpassed any other dairy-free cheese I've had on pizzas before as this coconut concoction was melty and soft and creamy and did the exact job that mozzarella does on a pizza. It tasted delicious and definitely isn't a dish just for our plant-based friends.
Each pizza was very reasonably priced at £4.50 and the range of fun, unique and delicious vegan toppings showcased how innovative the street food scene is.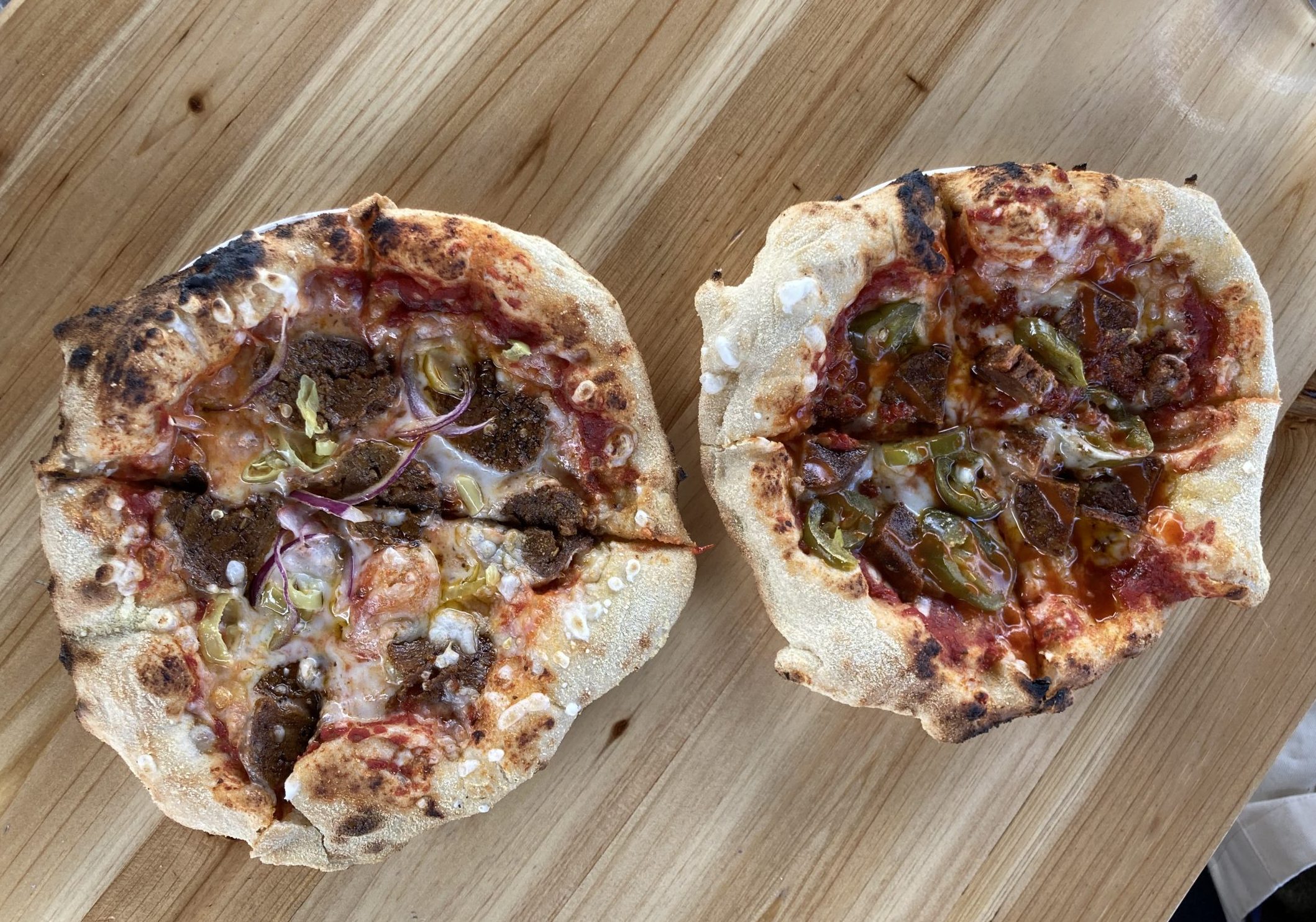 Probably goes without saying, but from Pakora explorer we ordered… Pakoras. To be more precise we ordered veg pakoras which came with that delicious special sauce, and we added on a small side of tangy red onions.
The pakoras themselves were super crispy on the outside yet insanely fluffy, soft and airy on the inside. Packed full of potato and broccoli, which were seasoned to perfection and unlike any pakora I'd had before. If ever you are ordering from these guys don't pass up on the tangy onions; the sharp acidity cut through the balanced spices and complete the dish.
The food from Pakora explorer was incredible but equally as beautiful as the food is the story and family behind this business. Sheetal, the mastermind behind Pakora Explorer, was at the Street Food Awards with her incredibly sweet Father. We can't get enough of these guys and their personality shines through their cuisine.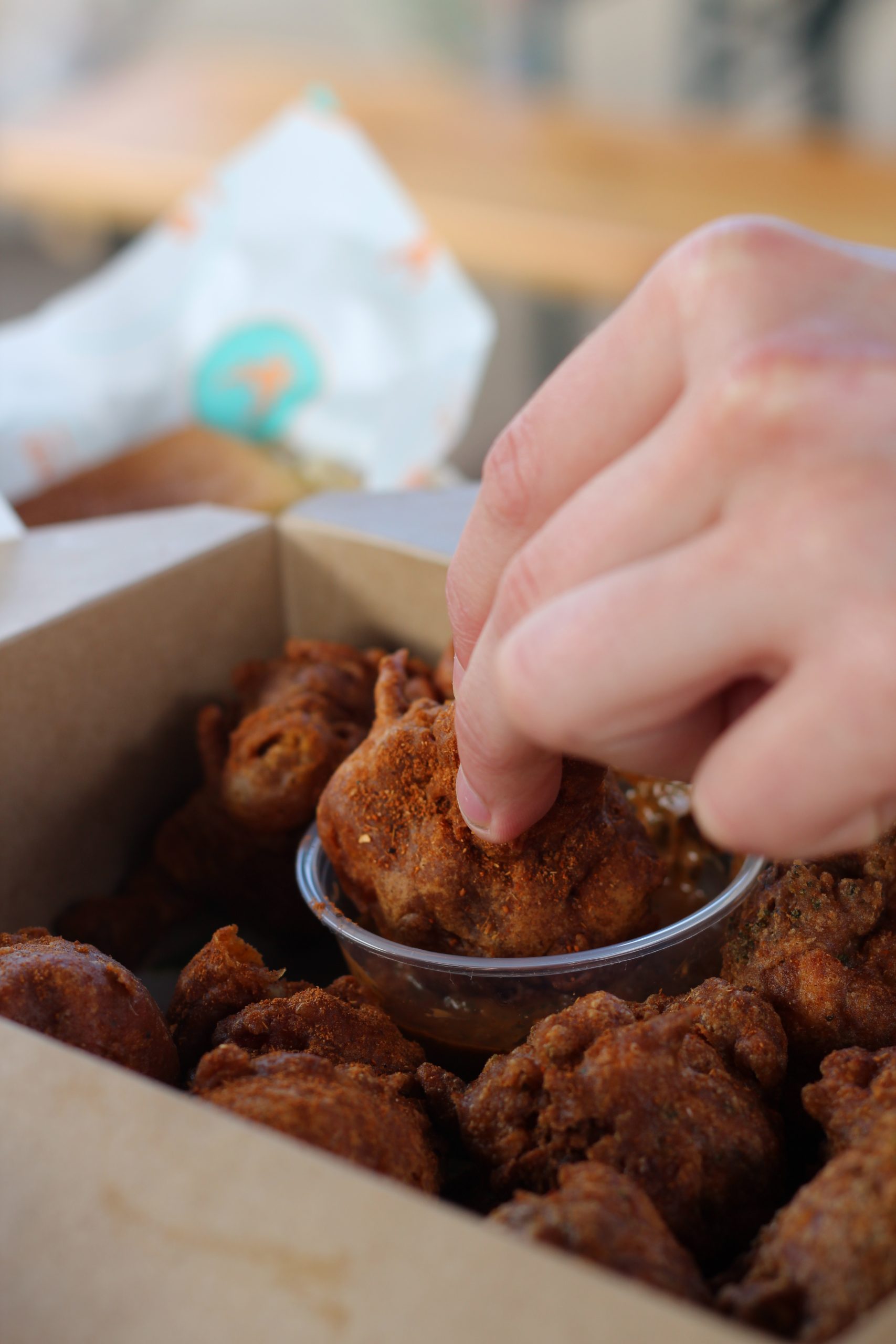 From Stag Bites the Hog we got a couple of different dishes.
First up we had 'Two Faced Cheeks' – incredibly rich and indulgent. The dish consisted of sous vide beef cheek and cider-braised pork cheek, and it literally fell apart with no exertion of force. The meat rested atop a generous dollop of creamy mash. After a few mouthfuls the shreds of melt-in-the-mouth cheek had stirred through the mash; it was simply comfort on a spoon.
Next, we had another 'taster' style dish of the Venison Cabano, a mini yet mighty sandwich. The venison was imaginably tender and was paired it perfectly with deliciously spiced – and this dish only cost three quid!
Lastly, we ordered a vegan number; the 'Korean Smoked Butternut' which was on a bed of rice and fresh Asian veg. The dish was sweet sticky, with a tangy spice – exactly what you'd expect from a Korean smoked dish. All-in-all top marks from us for – great range of food, all very reasonably priced and beautifully presented.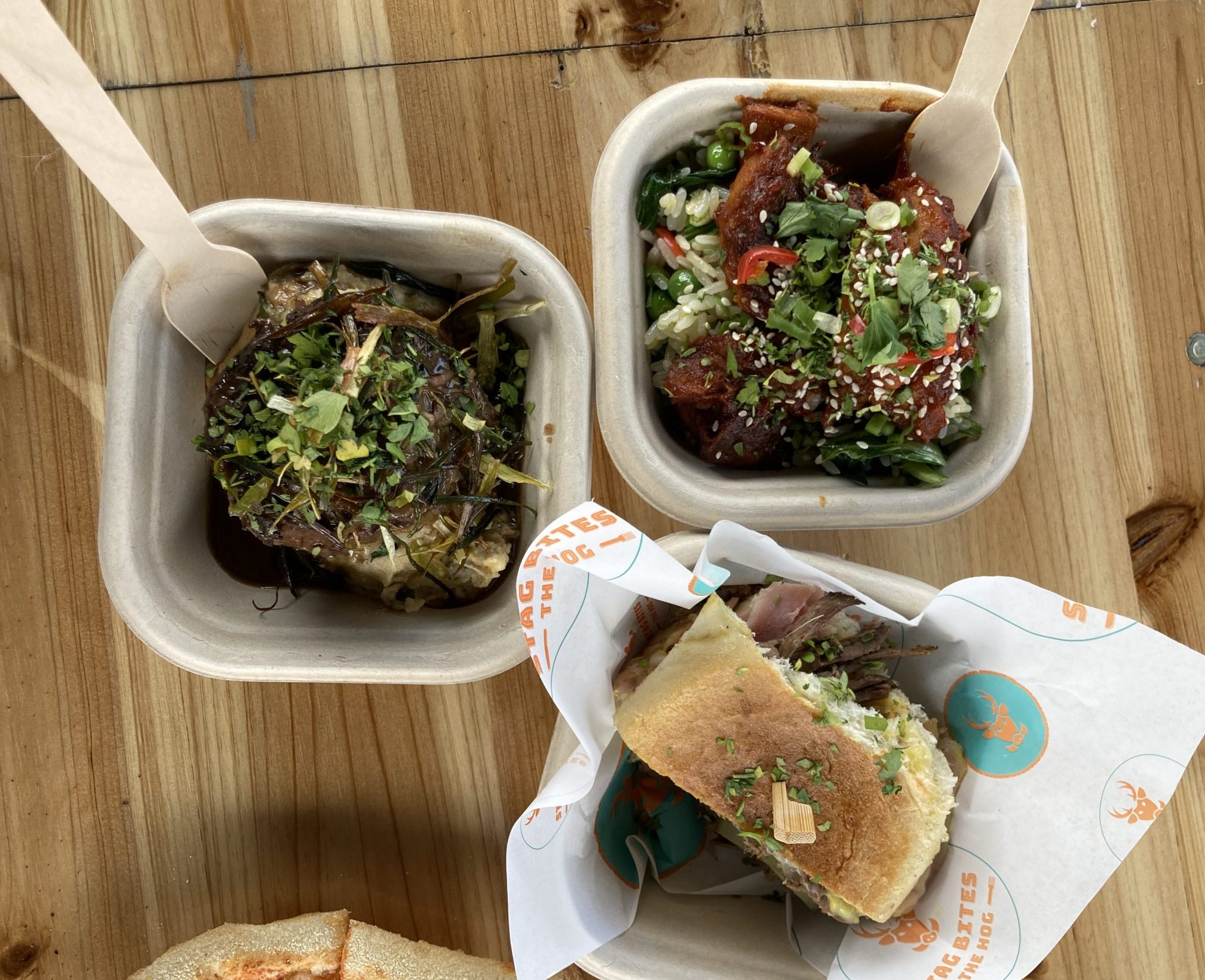 To round off our SSFA Marathon we got two dishes from Free the Chilli. Crispy vegan dumplings and Thai Satay Bowl.
All I can say for both of these dishes is that if you hadn't told me they were vegan I'd have never known – that classic "this is vegan right?"
The satay bowl's main star ingredient – crispy battered cauliflower – incredibly light and crispy batter with perfectly cooked cauliflower inside. I'm sure if you have ever had battered cauliflower before, you know that really can be a hit or miss.  But the talented team at Free the Chilli had no such problems; it was simply perfect. On top of the delightful cauliflower was a creamy, nutty and insanely moorish peanut satay sauce which flavoured every single mouthful.
And the dumplings. Jeez. So good. So crispy. So tasty. I wish I could eat these daily!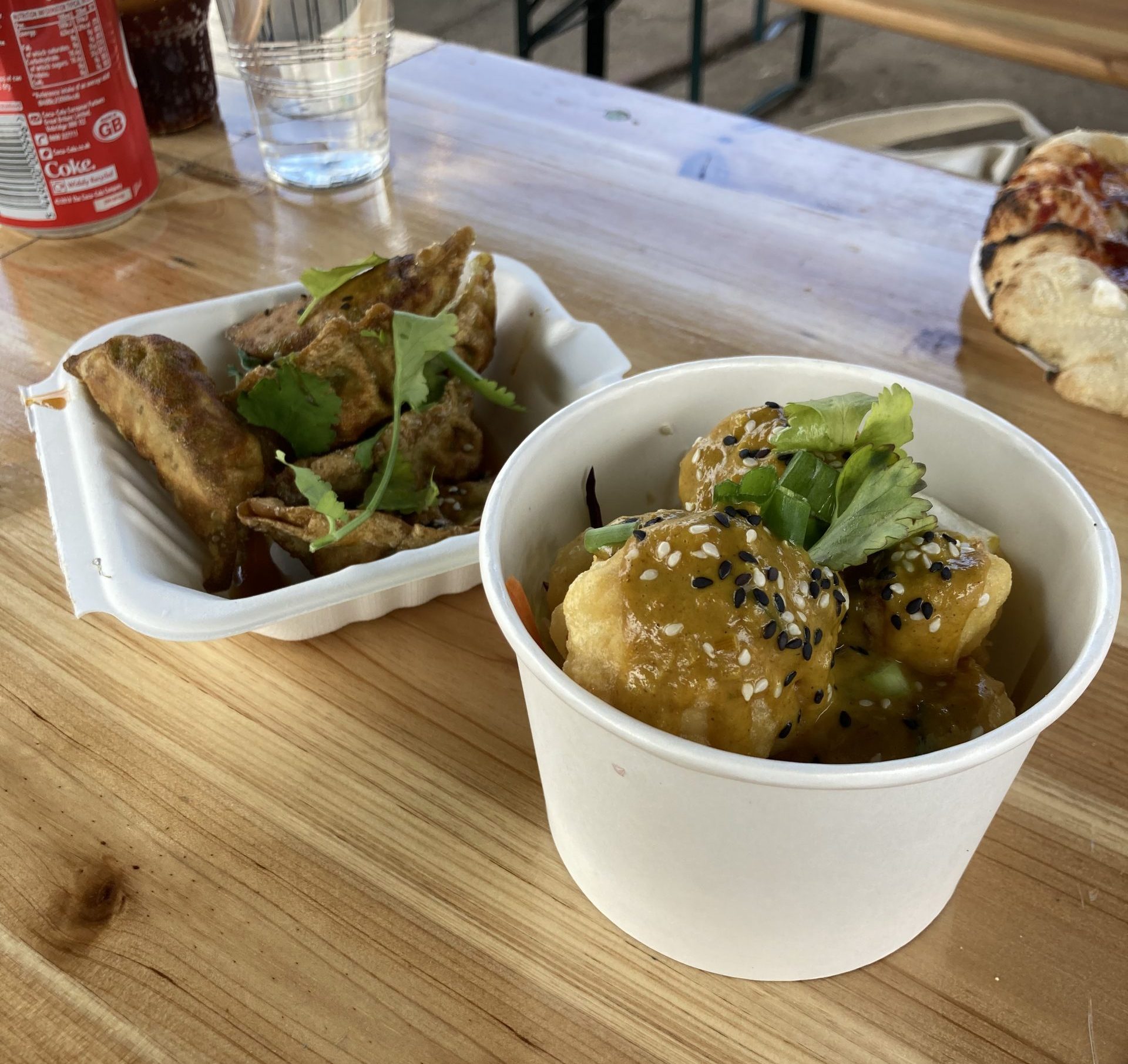 The Winners 
So, who won?
Crowned Scottish Street Food Champions by the esteemed judging panel was Antojitos – who serve up veggie/vegan Mexican street food. Apparently, their smoked seitan vegan quesadillas were 10/10 – I'll be keeping a close eye on where Antojitos are over summer because I need to get my hands (and mouth) on these rave-worthy quesadillas.
Barnacles & Bones were crowned the People's Choice. Their British shellfish and unusual cuts of meat must have blown the award attendees away.
A huge congratulations to all the caterers nominated – it was a tough competition with some insanely good food flying about The Pitt. Our only complaint is that we couldn't try everything!
The two winners will go to the British Street Food finals in September and represent Scotland. Go on guys – fly the flag, do what you do best, and bring back the trophy!
Thanks to all the Street Food Award organisers and The Pitt team for making the event happen in such a well-organised, enjoyable and safe way. Roll on a summer of events like this please!